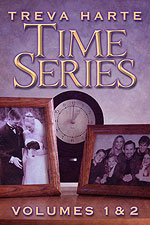 Time Series: Books 1 & 2 — No Time to Dream and Second Time
Book 1: No Time To Dream — Left alone to raise her daughter and her orphaned siblings, Jennifer's life is dedicated to responsibility. Disturbing visions of her missing (and supposedly dead) fiancé, Victor, who disappeared in a plane crash almost two years ago, still haunt her dreams. How can she justify lusting after another man?
But Victor's best friend Jack is here. He's real and very alive. Lusting after Jack's sexy body makes Jennifer feel disloyal…but she's not sure she can help herself, especially when Jack sets out to prove he is the man of her dreams.
Book 2: Second Time— Victor has always wanted Cee Cee's sister. Cee Cee has always wanted Victor. When things fall apart for Victor, she seizes her chance. But things don't always go as planned.
Will CeeCee and Victor get it right the second time around?
Ms. Harte is an expert in the art of pacing, feeding you morsels of information, then mixing them together to whip up a batch of story. This reader was always left hanging on from paragraph to paragraph, waiting for the next turn to be revealed."
– Connie, A Romance Review
"In NO TIME TO DREAM, the emotions of the characters, the choices they make and the struggle they go through is very vivid. Treva Harte has done a wonderful job of bringing to life the struggle of letting go of a tender childhood love and embracing a very adult passionate love."
– Michelle Houston, Sensual Romance
"NO TIME TO DREAM is a very hot, fast-paced read. The chemistry between Jack and Jen is remarkable and the emotional pull of the story leaves the reader eager to know what happened next. Ms. Harte has penned a great read I would definitely recommend."
– MaryEllen Kunkel, Sensual Romance
"NO TIME TO DREAM is a sizzling, poignant, and realistic love story. Maybe the best relationships are those that start with friendship and then lead to love. The first book in a planned series, next up are the stories of Jen's two sisters and her brother. This is my first novel by Ms. Harte, but it won't be my last!"
– Denise Powers, The Best Reviews (Sensual Romance)
"Treva Harte definitely knows how to spin a good tale. This story had everything. Love, romance, family and heartache filled the pages."
– Bea Sigman, Romance Junkies
"Treva Harte does it again with a remarkable story that is very much a romance."
– Flora, Sensual Romance
"Treva Harte did an excellent job on this erotic novel. I wanted to be Jennifer throughout this whole book and I still did even after I put the book down. It is well-written and makes the reader believe in falling in love again."
– Traci Amor, The Romance Studio
"NO TIME TO DREAM addresses many of those thorny questions we'd all like to avoid if possible. How long do you mourn? When is it okay to start living again? And when faced with the past or the future, which do you choose? Ms. Harte has crafted a fine tale of love, responsibility, and the difficulties inherent in moving forward."
– Maggie Ryan, Sensual Romance
"No Time to Dream captured my attention from the prologue. I loved the twists and turns that carry you through the story at a fast pace all the way to the end…A great romance with wonderful, sexy love scenes."
– Patricia McGrew, Timeless Tales
No Time to Dream was the first book I wrote after many, many years of not writing. The idea of a woman torn between two equally attractive men sounded interesting to me. I had to add lots more sex and lots more editing before publication…first books always need lots of work…but I'm really glad Jen and Jack and Victor and crew will have their chance.
© Copyright Treve Harte, 2003
"I'm saving myself for our wedding night." He gave her his most expressionless face.
"Why?"
"Because you're still sick. Because your family is here. Because this will be—traditional."
Damn, I don't know why. Because it seems right. Pretty Cecilia. If we just hold off, maybe I can figure out how to not make you look so afraid. You deserve better.
"You're just trying to tease me. Aren't you?" Cecilia hated when she couldn't figure out if someone was playing with her.
"I don't object to teasing. Do you?" He slid his hands from her wrists to just under her stomach. His fingers splayed down, almost but not quite touching her mons.
"I can take anything you want to dish out, Vic." Cecilia hoped she was right. Her legs were ready to buckle, but this time it wasn't because she was sick. She knew how good Victor's hands were. "I hope you can, too."
"We'll have to see, my bride." His fingers inched down a millimeter more.
Did he expect her to back down? She didn't ever back down. She just changed the rules. Right now, she didn't like Victor's rules anyhow. Cecilia tilted her pelvis up, he slid his fingers down, until the tips rested lightly on her clit. They stared at each other, challenge issued.
"I thought you weren't going to touch." Cecilia reached out, let her fingers rest on the top button of his fly. She didn't unbutton, she didn't touch further. Under her fingers, his stomach muscles tightened in anticipation. She didn't look down, but she bet that wasn't the only thing tightening.
"I said I was saving myself." Victor kept his hands where they were. Close, but not quite close enough to where she wanted. "I didn't say I would save you."
"Really?"
"Really. Let's see what we can do for you. You're looking…hungry."
"Bastard." She said it without any particular anger, though, because his grin promised all sorts of illicit delights. "I can control myself."
"Can you? On our weekend I seem to remember stories when you couldn't wait. Stories involving a vibrator and a dildo—" He didn't budge.
"You would remember those stories even though you didn't remember to call me. What if I told you they were just…stories?" Cecilia decided to turn the tables. She didn't touch his cock. He said he was saving himself. The same rules didn't apply to her. She most definitely did not want to be saved. Instead she unbuttoned the top of her shirt, watched his eyes follow her. She unbuttoned another. "Just a little sex talk to get you off?"
"You did. But they sounded real to me." Victor tilted his head. "If I checked your room, would I find a suitcase full of toys?"
"You're welcome to come to my bedroom if you want. I don't have to share with Vicky. But I thought you were above that sort of thing until we got married." Cecilia unsnapped the front clasp of her bra. "Toys are fine, but I've moved forward. Now I do piercings, too."
She enjoyed hearing his sucked-in breath when he first caught sight of her new ornaments. Lazily she rolled the tiny nipple rings in both breasts, taking care with each circular stroke, letting them both enjoy the sight of her nipples beginning to pucker.
"Now your hands could be on me, if you wanted." Cecilia fought to sound steady. "But since this staying untouched before marriage is so important to you, I'll just manage on my own. I wouldn't want you to compromise yourself."
"You fight dirty, Cecilia." He stepped back away from her but she knew she had his attention. She pinched one nipple. His eyes dilated. Now. He'd give in now.
Instead he stepped back further.